(JAN 20) New Zealand boxer
Baby Nansen gets big WBF World title opportunity against Bianca
Elmir on March 27th at Club Punchbowl, Punchbowl, NSW,
Australia.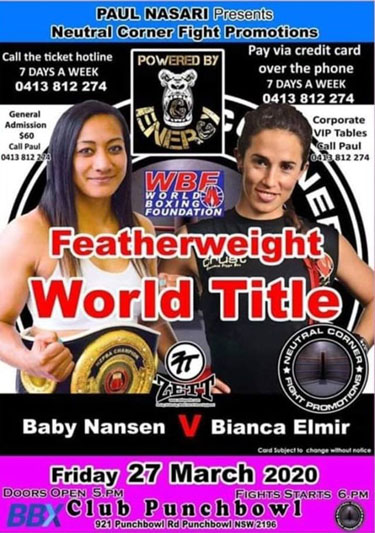 Just freshly announced today,
Baby Nansen (8-4-1) gets a big opportunity for a World title
shot against Bianca Elmir (5-1-0). Baby Nansen has had an
impressive career with many major opportunities. First big fight
opportunity was in New Zealand in 2016 where she fought highly
ranked boxer Melissa St Vil (12- 4-0) for the WBC Silver title.
In 2018 she fought Mikaela Mayer (12-0-0) at the historic
Madison Square Garden on the Vasiliy Lomachenko vs Jorge Linares
world title undercard. The big fight Baby Nansen had was Deanha
Hobbs (8-1-0) for the WBO Asia Pacific title in an extremely
close fight.
As well as being the second-highest ranked female boxer in New
Zealand and PBCNZ Champion, Baby Nansen is a well-credentialed
kickboxer as well, winning over 5 kickboxing/muay thai titles
and has fought in over 40 kickboxing bouts. Last year Baby
Nansen was nominated for two Gladrap awards (New Zealand's first
and very own Boxing awards) for Female boxer of the year and
Best looking female boxer of the year.
Baby Nansen is very excited for this fight. "I got the
opportunity through matchmakers in NZ looking for an opponent
for Bianca" Baby Said. "Nigel Elliot put me through to Nath
Swadling and we went through an application through the board
and found out that we both qualify for a world title".
Baby began her pro boxing career training with John Conway at
Rebel Lee Gar. In 2018 Baby moved to highly successful gym City
Kickboxing who look after Junior Fa, Hemi Ahio, Israel Adesanya
and many more highly successful fighters. The gym has highly
credentialed trainers including Eugene Bareman, Doug Viney, Mike
Angove, Tristram Apikitoa and Chanel Niumata. Baby has gone the
extra mile preparing for this fight as she was training in
Thailand at Tiger Muay Thai gym with her partner Sam hill and
UFC fighters and sisters Valentina and Antonina Shevchenko. This
extra elite training could give her that extra edge to give her
the victory.
Baby Nansen started pro boxing career in 2014 with Bianca Elmir
debuting in 2017. Bianca Elmir wasn't very active in her first
couple of years as a Professional boxer however after her first
title in April 2019, she started fighting more regularly. She
won her Australian national title against Rianne Ware. The most
credentialed boxer she fought was Shannon O'Connell, in an
extremely close fight that ended by Split decision. After that
fight, she fought and won two fights ending her year. Now she is
looking for a big boost in her boxing career with a WBF World
title.
For more information on the fight night look here: https://www.facebook.com/neutralcornerfightpromotions/